i Flautisti, live on BBC Radio!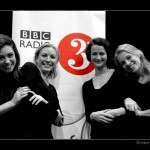 Hear i Flautisti performing live on 'The Early Music Show' with Lucie Skeaping at the Brighton Early Music Festival.
Click the link to hear Sarabande and Balletto from Mensa Sonora Pars II by H.I.F. Biber, and Largo and Allegro Molto from Antonio Vivaldi's Concerto in C, RV443.
[audio:http://www.iflautisti.com/wp-content/uploads/2010-10-30-BB3-iFlautisti.mp3]